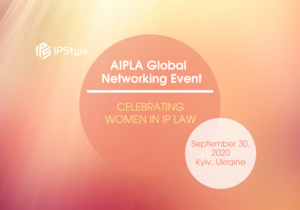 It's finally happening! Mark September 30 in your calendar!
In spring we had to change our plans given the global events. But now the IPStyle team is happy to announce that we are hosting the annual AIPLA Women in IP Networking Global Event in Kyiv!
The event is held simultaneously in different parts of the world as part of the annual initiative of the American Intellectual Property Law Association (AIPLA) and unites women practicing intellectual property law from all over the world.
During the event in Kyiv, we will have a creative workshop, as well as the traditional international call to welcome colleagues from across the world and share impressions of participating in the event!
We invite our colleagues in Kyiv to join us. Let's celebrate Women in IP Law together!